Insecure Guardians: Enforcement, encounters and everyday policing in postcolonial Karachi by Zoha Waseem
Insecure Guardians probes the law enforcement, encounters, and everyday policing in the backdrop of Pakistan's colonial past and its ongoing impact. It specifically scrutinizes the case of Karachi, delving into the intricate dynamics of policing, militarization, and securitization in the city. As the name suggests the book offers a perspective to understand the daily realities faced by city's vulnerable residents, including both police and community.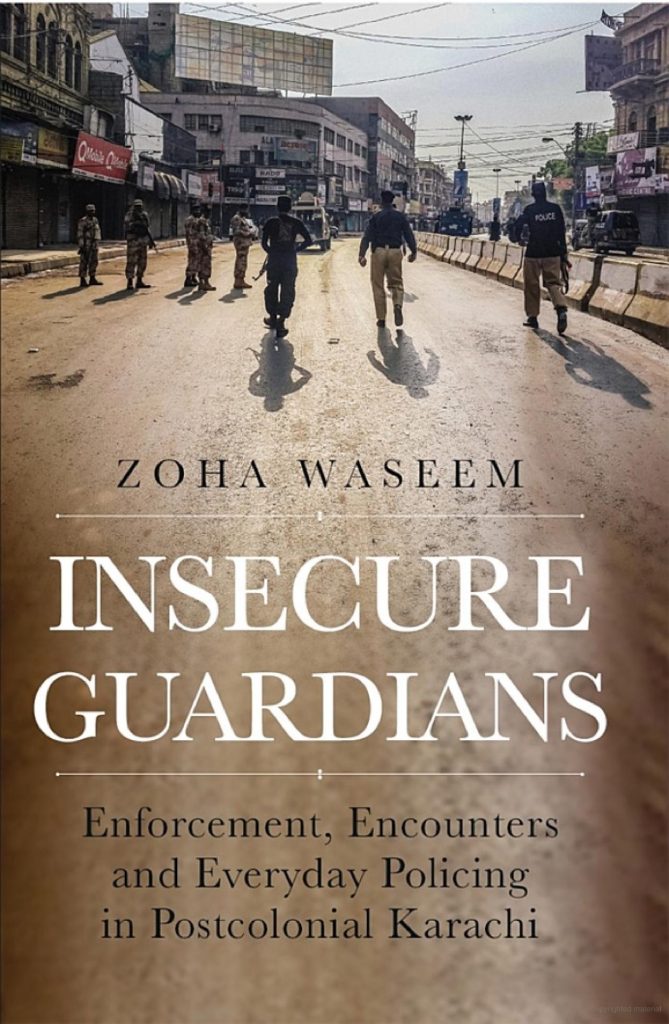 The book is a scholarly work with rigorous research methodology, incorporated with nearly 20 months long fieldwork in Karachi. This ethnographic study uncovers a unique "postcolonial condition of policing" through in-depth analysis of approximately 200 interviews and extensive research.
The primary framework of the book has the potential for application in various postcolonial discussions concerning law and criminal justice. Waseem critically examines the manifestations of colonial legacies within Pakistan's criminal justice system. Moreover, the study delves into the continuous interplay between postcolonial notions of "regime security" and the socio-economic and political dynamics of a postcolonial urban setting.
This extensive study of policing in Karachi explores aspects that have colonial continuities where civilian and military power brokers use police to establish the rule, writ of the state, and exploit for saving the interests of ruling elite. However, the author sees not only the colonial baggage, but also new security challenges (like war against terrorism) also shape the contemporary policing in Karachi.
Insecure Guardians uncovers significant observations about the actual experiences of police officers in Karachi in their day-to-day work, shedding light on the persistent physical, economic, and psychological insecurities they face. Despite the long list of challenges, the police in Karachi have a negative perception among masses. According to Waseem, the perceptions of the police are predominantly influenced by narratives emphasizing corrupt practices which significantly impacts public opinion.
Waseem investigates the influences of militarization and procedural informality on the policing practices in Karachi. The aspect of militarization requires a contextual understanding within the wider political history of Karachi, encompassing the involvement of the state and political parties in aggravating ethnic violence that consequently resulted into enhanced securitization. Additionally, the book explores the impact of military narratives emphasizing national security, as well as the consequences of empowering Pakistan's paramilitary agencies in everyday security and law enforcement in Karachi which eventually undermines the civilian criminal justice system and policing structure.
Insecure Guardians is an important resource for those seeking to expand their knowledge in the field of policing and security studies. It not only provides valuable insights into law enforcement, criminology, sociology, politics, and security studies, but also offers an intriguing account that contextualizes these disciplines within the postcolonial framework policing of Karachi. The book also serves as a personal first-hand account that chronicles the tale of Karachi and its people, the insecurities and policing.
This blog post is written by Syeda Iffat Hasan Rizvi who is an intern at ICT4COP.